Lipocube Cream Line
November 30, 2022
2023-06-01 8:44
Lipocube Cream Line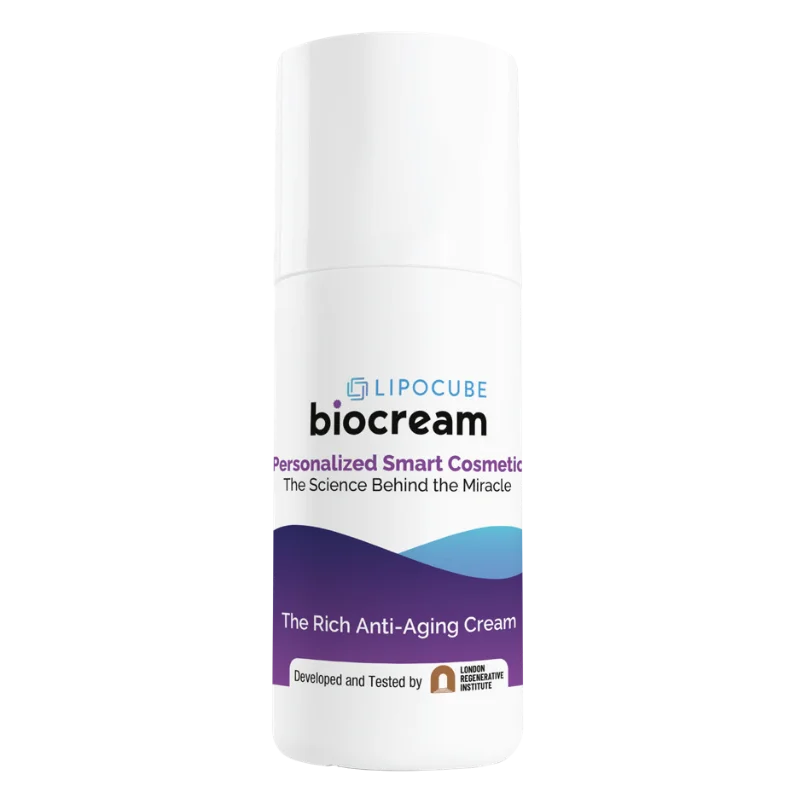 The Bio Cream is designed to improve hydration, brightness, and to give appearance to youthful and healthy skin. Phospholipids, are naturally occurring substances that have been used in skincare formulations for their ability to improve product stability, texture, and performance. They can also enhance the delivery and absorption of active ingredients, which can improve the overall efficacy of a skincare product. These molecules are used for encapsulation of biological molecules and increase uptake efficiency of molecules to the cell.
Argireline, or Acetyl Hexapeptide-8, is a synthetic peptide that has gained popularity as an anti-wrinkle and anti-aging ingredient. It works by reducing muscle contractions, which can lead to the formation of fine lines and wrinkles. While its efficacy may vary from person to person, it is often included in skincare products designed to address visible signs of aging.
Camellia Sinensis, or green tea, and its extracts are rich in antioxidants and have been shown to have anti-inflammatory and toning properties. These properties can help protect the skin from environmental stressors and promote skin regeneration, leading to a more youthful and healthy appearance.
Madecassic Acid is a compound found in centella asiatica, a plant commonly used in traditional medicine. It has been shown to have anti-inflammatory and soothing properties, making it a popular ingredient in skincare products designed to address redness, dryness, and other skin conditions.
Vitamin E (TOCOPHERYL ACETATE) is a powerful, restorative skin conditioner. Effectively supports barrier function to optimize hydration levels while protecting the complexion from environmental aggressors.
Centella asiatica Extract is derived from a plant that is known
for its anti-inflammatory and antioxidant properties. It helps to soothe and protect the skin.
Citric Acid is an alpha-hydroxy acid that is often used in skincare products to help exfoliate and brighten the skin.